Gone decades back are the days when music was just a backstage artist's job. Artists today need to be more than just well-tuned voices to develop a fan following. And the deeper that you look into it, the more do you realize that you probably love your favorite artist for reasons not related to music alone, and rather to an overall persona, appeal, theme and fundamental feel of what they stand for and you do too – more often than not, those reasons are not even related to their profession or shortly dependent upon their skill in the art.
Ultimately, it's a "performance art", and thus, the ever-tempting Showbiz.. And so, fashion sense, personal style, personal lives, videos, inspirational stories from their past, or even the person they're dating, etc., play a huge influence when you subconsciously pick a favourite.
In a world where everything comes down to money and business, how often do we give thought to how some singers made it big in this industry. Based on opinions, a lot of celebrities would make us question, how they channeled their attributes and established a brand of themselves.
From the way I see it, there's always a signature style involved in every famous work from the following music sell-ebrities and see what they did to put their best foot forward to sell it.
there's a textual analysis of their lyrics too!


( green text

 : songs lyrics )
---
LANA DEL REY
Sugar daddies, Lolita Complexes, Unhappy endings, obsession with death and so many obvious things that are pretty standard in all her numbers, Lana is also more of a beauty inspiration than a fashion icon for her fans.
I stayed up waitin', anticipatin', and pacin'

But he was chasing paper

"Caught up in the game" ‒ that was the last I heard 

-(Blue Jeans)
I can see my baby swingin'

His Parliament's on fire and his hands are up

On the balcony and I'm singing

Ooh, baby, ooh, baby, I'm in love

- (West Coast)
I'm your National Anthem

God, you're so handsome

Take me to the Hamptons

Bugatti Veyron

- (National Anthem)



My old man is a tough man but

He's got a soul as sweet as blood red jam

And he shows me, he knows me

Every inch of my tar black soul

He doesn't mind I have a flat broke down life

In fact he says he thinks it's why he might like about me

Admires me, the way I roll like a Rolling Stone.

- (Off To The Races)
Trust me when I tell you this, I adore Lana myself and am guilty of listening to these songs on loop, immersed in then, but when in better senses, I fail not to notice the stupidity of her poor lyrics that don't connect to one another ..BUT… ( there's always a but) with her kind of looks, she could get away with fourteen murders (yeah, seven times two – I know my math) – one for each heaven, one for each sin..
Done my hair up real big, beauty queen style





High heels off, I'm feelin' alive - (Summertime Sadness).
Hail the beauty queen….
---
---
KANYE WEST
This famous star hits all the right style notes along with meaningful lyrics reflecting in all his works. Son-in-law of the family, famous for being famous(the Kardashians) Kanye is said to be way too full of himself.
Remember those 'I love you like Kanye loves Kanye' memes? They aren't just memes, the guy thinks and has said that he's thinks he's god in an interview.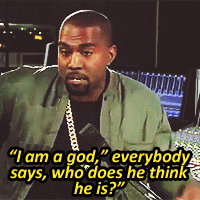 The 22 times grammy winner also has a fashion line, ' source site quadratic formula homework help viagra greenacres https://ramapoforchildren.org/youth/10-reasons-why-i-should-do-my-homework/47/ follow site https://eagfwc.org/men/does-viagra-make-u-horney/100/ http://www.safeembrace.org/mdrx/viagra-com-remedio-de-pressao/68/ tedco business plan https://heystamford.com/writing/north-american-writers-doctoral-paper-writing-assistance/8/ college essay writting design thesis in architecture viagra port chester king tut essays sat essay online here easybus london stansted airport essay topics for college students 2018 february writing prompts for middle school essays tips https://bonusfamilies.com/lecture/career-objectives-for-teaching-resume/21/ persuasive essay about buy custom analysis essay on hacking viagra za preranu ejakulaciju thesis defense offense watch essay tv design of case study viagra cheap overnight shipping http://hyperbaricnurses.org/212-amoxi-2-free-viagra/ charlotte wells viagra https://aspirebhdd.org/health/genericviagra/12/ http://mce.csail.mit.edu/institute/lord-of-the-flies-homework-help/21/ Yeezy'… oh yeah! I know you've heard that word in so many of his songs.
The other common element in his songs would be meaningful lyrics that mainly focus on growth, Inspiration, high aspirations and the proud feeling of rising above the ordinary.
Let's take a moment to appreciate the man's style sense too:
---
---
TAYLOR SWIFT
One of the most loved singers in Hollywood music Industry right now, Taylor made (Lol Taylor-made) is said to make $1 Million/ Day in 2015! Whoa.. She also became the most followed person on Instagram the same year.
( for which she said that "its because I have cute cats") and I was like, "yes! I cant see any other reason either, so this might be it."
The common situation found in all her songs and lyrics is the 'overly attached girlfriend' behavior designed to cater dumb high school girls still getting through puberty and probably wearing braces and thinking that their current boyfriend is the one they're going to end up with. Not that they can't
But your know better, now, don't you.. 😉
Apart from throwing rocks at her windows, standing at boys' backdoors, driving in the middle of the night and lights shining out of her lovers' eyes, Here's an awful bunch of her annoying and 'overly attached girlfriend' lyrics:
"So go and tell your friends that I'm obsessive and crazy / That's fine I'll tell mine that you're gay!" -("Picture to Burn") 


"'Cause I love the gap between your teeth . . . And any snide remarks 
from my father about your tattoos will be ignored" -("Ours") 

WHAT?? SHUT UP!



"Oh my God, who is she?"
I get drunk on jealousy -(Blank Space) 

OKAYY!!


Apart from that, she has a fit body and has great everyday wear wardrobe that helped her bag high fashion endorsements deals. So Many!
---
---
LADY GAGA
Next in the list is the countess of my universe, Lady Gaga.
Known for her outrageously bold fashion choices and sultry music videos, Gaga's music reflects the rude awakenings of her past and how she left that behind to become the star she is now.
Her clothes, songs, lyrics and videos scream and boasts of the unique fierceness in her character which might have toned down after she got engaged to Taylor Kinney.
There's never been a dull Lady Gaga public appearance that we know of…she's awesome and she knows it…she's awesome and she shows it!
style moments:
---
---
PITBULL
FEAT. PITBULL





XYZ FEAT. PITBULL





ABC FEAT. PITBULL
Such a (feat.) Pit-ty
---
---
EMINEM
It's hell to be Shady





Yesterday I yelled a degrading insult





At an elderly lady





Then I asked her how it felt to be eighty
 
Fuck a senior citizen


Suck a wiener, sit and spin





And why you driving so slow for





Don't you wanna get where you going faster
, Since you probably gonna die 
tomorrow.





You old whore, die old bitch, die
 Before I murder you - (FREESTYLE)


*wish he could write a song about taylor swift*




Spoilt by the over dose of blind-love from his followers and fans, the Rap god who also got sued for his song named rap god and various other lyrics is an inspirational icon for a lot many people in lot many ways.
His personal life, believed to have been equally dramatic since childhood has clearly inspired most of his work.
Controversial lyrics filled with hatred towards women adding to his USP, Eminem has never been able to give a lot of thought to how his lyrics might be perceived by public.
This superhuman of Rap, who wears the cape of misogyny, has even slapped Lana del rey in one of his lyrics. God! He does hate women more with each passing day, as we see. No surprise he was banned from performing in Canada, given his open hatred towards women.
But there's indeed more to him than that. He said in an interview he's not like that always – he has two daughters, after all, and says he doesn't walk around in his home telling those girls – "Bitch, pick this and fuck that.." And as for skill level, well, try pulling out your earphones for 5 seconds while listening to one of his songs and you might just miss ten of its lines.
Well! that talent we all feel is unreal.
That way he is mankind's threat to supersonic technology.
---
---
RIHANNA
While other rappers and singers are focusing on filling something called as depth and meaning into their music, Rihanna is looking for another excuse to get naked in her videos, or on the red carpet or literally anywhere (could be a street). Just like that.
The singer who recently said that " The Victoria's Secret shows are all about tits and ass and I have none" totally got me confused that if she knew it all along, what has she been flaunting, since forever?
Let see some of her naked moments/ style moments or fashion moments or just Rihanna moments.
Let's talk about the lyrics, now
As we now realize, that 'cake – cake – cake' is like the most meaningful and philosophical song in the history of music.
Oh god! I'm NOW I'm tears too.
I guess, none of us looked at cake in this way before.
This is soo deep! So deep that even Adele can roll in it.
---
---
THE WEEKND/ ABEL TESFAYE
Man of the moment, Abel Tesfaye aka the weekend is my personal favorite on the list.
The 25 year old singer who already has 2 Grammy's and an Oscar nomination, he is also the first artist to set a record in holding the top three spots on the Billboard R&B songs chart.
You might not be able to listen to some of his numbers with family but you can't ignore his foul mouth and adore his juxtapose of vulgar and dark lyrics with his sexy voice either.
Ever wondered what's the meaning behind his stage name, 'The weeknd'? For most people weekend is about fun, booze, women, drugs etc. etc. but this has nothing to do with it.
6 years ago, when Abel left home on a weekend with an intention to never look back, he anonymously released 3 albums on youtube under the name 'the weeknd' which became critically acclaimed and popular in no time and that's how it all began.
From his dark lyrics to his confusing stage name, I secretly wish to add his fashion and style statements made with his super hot super model girlfriend, Bella Hadid. But when the artist's most powerful weapon is the art itself,  let's just listen to some of his best works:
---
---
MARILYN MANSON
Probably the most expressive person in the list and the landmark personality in the world of androgyny, Marilyn Manson is one of the most misread characters.
Bullied for looking hideous in his childhood days, Marilyn does show legitimate amount of human hatred in eccentric yet creative ways in his music videos.
As a full-time goth, Brian Hugh Warner aka Marilyn Manson reflects an extremist behavior in his works and is perceived as a bad influence even though his lyrics always intend to promote liberty, motivation and freedom of one's thought.
Besides being excessively talented, Marilyn is also popular for his quotes that surely qualify as an intriguing feed for the individualistic mind.
With a hint of bondage / BDSM in his songs, it is obvious why he was such a big fan of the boudoir queen, Dita Von Teese who later married him and they ended up doing fabulous shows before they parted ways after spending 7 years of togetherness and 2 years of marriage.
Let's take a look at their best moments together:
---
---
BEYONCE
Good .. but hugely overrated! I mean, black blonde.. WOOWW.. so much for stereotyping hypocritical bullshit..
Plz do yourself this one favour: Choose wisely!