Falling hard and falling fast, it's only a matter of months (or a couple of years) when you start feeling like you've seen everything that your relationship has to offer.
You're annoyed every other moment and have turned comparatively unforgiving as compared to how you used to be. Getting restless to receive and answer his texts doesn't look so hard anymore. Your passion has dropped down to the level where you just can't bring yourself to go through his 'bullshit' aka the regular him.
Calm down, I know you could always see through his bullshit, but it was masked by his naughty smile and the charm that has scheduled the phase of you getting bored of him to months later. The charm that tricked you to instantly dive in, thinking it could the real thing this time.
And now, you just don't know how to turn around and cut ties like you never cared, 'cos you did! And only you know and understand not everyone can handle you. You're a bit too much for a man who doesn't have that spunk and grip you need to keep you emotionally engaged. And gurl are you in trouble, the moment that hits you.
So here's a li'l rule book you can follow to channel your energies to good use and find someone worth keeping. Finding someone who'd suck at times (like most men do) but have strong redeeming qualities that might just do the trick and get you the one you may not get bored of easily.
If you're trying to work the strings, find someone with a guitar–yes, I though of that!
Being impressed with someone def has more scope than being being a fool in love and then realising it was just infatuation. Having someone who's good at what you think is cool will not only make you respect the him, but also curious to learn his way of doing things. As a result, you'll always be in the awe of 'how the hell does he do it?'
Find an older guy
The older, the smaller will be the pool. But if you can, I believe it can actually surprise you. An older guy will probably have a whole new approach to you. He has had his share of relationships and hey, he'll be better at crisis than boys who keep turning you off with their indecisiveness.
It helps if he's more patient than you are 
But don't use that to your advantage!!! Even the most patient guys lose their cool when constantly tested. But till that, it'll be okay if you're the crazy one. When you're hormonal and acting crazy (and realising your mistakes after you make some) your man will be willing to help it go away. And as a result his way of handling it SO patiently will make you like him even more. His ability to save the relationship when it could have totally fallen apart will make you feel like you're in a reliable place. Also, he'll give you the best advice when you're going through a tough time.
Either find someone who shares the same humour as you or at least knows how to compliment your funny side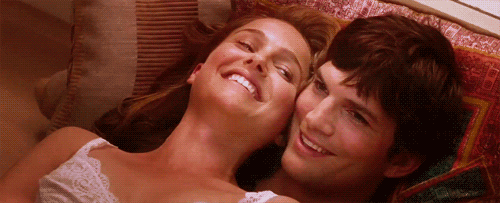 Don't underestimate the power of giggles and guffaws, time to time. A man with a good sense of humour will not bore you, obviously. Pair that quality with intelligence, what more do you need?
Shocker: it's okay when he's a player 
Sorry to break it to you but, it's better when he's little bit of a player when full guys ain't your territory. The perks of taming a guy who's lil bit of a player will bring you several delights in your relationship. You're with him because he challenged your brain. He knows exactly how to control you and that's not always a bad thing when two people know how to place it. For all you know, you could be playing the same part in his life.
How's that for a good recipe?